Avira Antivirus Security 2019-Antivirus & AppLock for PC is one of the popular Android app in Tools category published by AVIRA on playstore platform. This app has gained over 10000000+ downloads by Android users with a aggregated rating of 4.488110542297363 in playstore with the content rating of Everyone.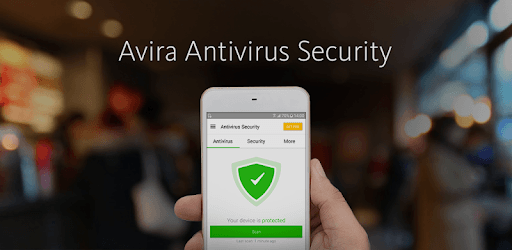 There are a lot of Tools Android apps which offer similar features like Avira Antivirus Security 2019-Antivirus & AppLock for PC, you may notice some of them are also developed by AVIRA.
This app uses the Device Administrator permission.

The best free antivirus cleaner, mobile phone security, privacy, and anti-theft app for Android: Avira Antivirus Security.

Your photos, contacts, emails and credit card numbers are on your phone. Avira Antivirus Security is a top security app that protects your phone & tablet. More than a free antivirus scanner & malware/spyware cleaner, our full-featured free mobile security app provides safe browsing and remote anti-theft features to track & find your devices.

Key Features of Avira Antivirus Security

⭐ Virus Scanner & Cleaner – Scans, blocks & removes viruses, spyware, malware, etc. ✓
⭐ Phone Locator & Tracker – Helps you find, track, & recover your lost or stolen phone ✓
⭐ Privacy advisor – Shows how each of your apps collects sensitive data ✓
⭐ Super light Virus Protection – Quickly scans for malware but doesn't slow you down or drain your battery✓
⭐ Camera & Mic Protection – prevents anyone from listening in and spying on you ✓
⭐ AppLock – PIN protect your sensitive apps (chat, calls, Skype, etc.) ✓
⭐ Free or Premium features. You choose✓

The Ultimate in Antivirus Security for Android

Avira Antivirus Security is a comprehensive antimalware & safety app designed to keep your Android devices & sensitive data safe. Our powerful virus scanner blocks spyware & phishing attacks, and removes any malware and adware found on your phone.

► Free Antivirus and Privacy Protection - Our powerful antivirus for Android automatically scans your apps, updates, and external devices for malware.
➕ Rates each app on a privacy scale according to how much data it collects

► Anti-Ransomware - Avira Antivirus Security prevents ransomware from encrypting your phone and taking your data and apps hostage.
➕ Proven ransomware protection from Avira blocks millions of ransomware attacks every month.

► Anti-Theft, Locator & Recovery Tools - Track your phone on a map, lock apps to prevent unauthorised access, and remotely wipe your device.
➕ Trigger a loud siren to help locate your Android. As an additional security service, you can prompt whoever finds your device to contact you.

► Identity Safeguard and Blacklist - Spyware & virus detector checks if your contacts have been leaked to a third party and notifies each contact if email addresses have been compromised.
➕ Blacklist and block unwanted contacts from specific numbers

► Web-Based Malware Protection - Access all your security settings and remote functions such as siren, memory wipe, & phone locator
➕ Manage multiple devices across different platforms from the web-based portal.

► Free or Premium Virus Protection - Free virus protection for all Android devices.
➕ Enjoy the best advanced virus guard for your device with Premium.

New for Antivirus 2018 – Pro Features

⭐ AppLock – Block specific apps on your device by schedule or geographic location. Perfect if you allow your children to use your device, AppLock ensures safe web browsing and app usage.
⭐ Camera Protection – Stop applications and websites spying on you through your camera even while they run in the background. Ideal for businesses where security is an issue, users can whitelist certain apps.
⭐ Mic Protection – Block unauthorised access to your microphone. Advanced functionality ensures your phone works even while Mic Protection is active.
⭐ Web Protection – Enjoy Internet Security free from infected & phishing sites



LANGUAGES
English, German, French, Dutch, Italian, Spanish, Brazilian Portuguese, Russian, Polish, Turkish, Korean, Japanese, and Chinese (simplified and traditional), Indonesian.
How to Install Avira Antivirus Security 2019-Antivirus & AppLock on PC
Install Android on your computer by downloading and installing it
To access the Play Store, sign in to Google. You can also do it later.
In the top-right corner, type Avira Antivirus Security 2019-Antivirus & AppLock into the search bar
Click here to download Avira Antivirus Security 2019-Antivirus & AppLock from the search results
To install Avira Antivirus Security 2019-Antivirus & AppLock, you will need to sign in to Google (if you skipped step 2).
To run Avira Antivirus Security 2019-Antivirus & AppLock on PC, click the Avira Antivirus Security 2019-Antivirus & AppLock icon located on your home screen
Related apps
AVG AntiVirus 2019 for Android Security for PC
Avast Antivirus – Mobile Security & Virus Cleaner for PC
Clean Master - Antivirus, Cleaner & Booster for PC
Security Master - Antivirus, VPN, AppLock, Booster for PC